Profession :
Nurse anaesthetist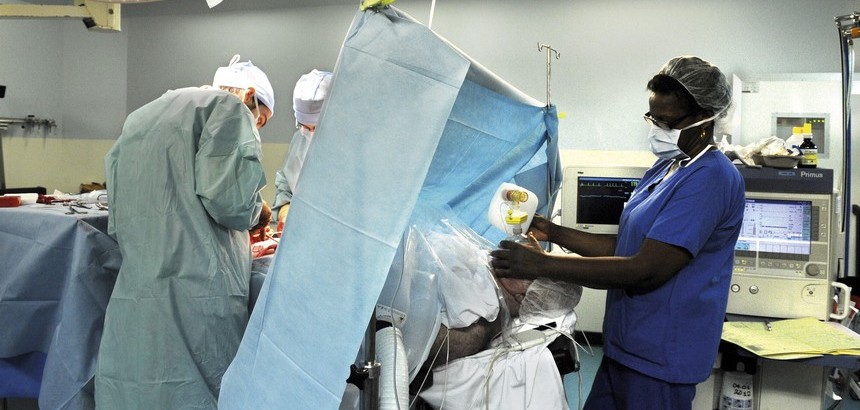 Diploma-level nurse anaesthetists (IADE) work at the heart of multi-disciplinary teams, in collaboration with and under the responsibility of experienced anaesthetists who specialise in resuscitation. They provide specialist care and technical skills in the anaesthesia/resuscitation field, in cases of medical emergency and as pain management.
Nurse anaesthetists analyse, evaluate situations and intervene to guarantee a quality of care and patient safety in the anaesthesia/resuscitation field, during the perioperative period.
Their work contribute to diagnosis, treatment and research. They participate in training in these specific fields.
Entrance examination :
Nurse anaesthetist
Entrance examination registration
Registration are closed
Conditions for registration
Be the holder of:
- A diploma, certificate or other qualification as stated under article L 4311-3 or article L 4311-12 of the French Public Health Code, permitting the holder to exercise the nursing profession without restriction
- OR a diploma or permission awarded by the Regional Director of Youth and Social Cohesion, responsible for Health, in accordance with article L. 4311-4 of the French Public Health Code
Able to demonstrate a minimum of two years of full-time professional experience as a nurse, by the 1 January of the year of entry
Entrance exams
An eligibility exam: A written exam, consisting of 20 short questions and one essay.
An evaluation of candidates' professional and scientific skills, with reference to their training to qualify as nurses at diploma level, and their writing skills.
Duration: 2 hours
To be eligible to register on this course, candidates must achieve a mark that is equal or above average.
An entrance exam: oral presentation and discussion with a 2-person panel.
To evaluate candidates' capacity to:
Refuse a clinical argument and manage a healthcare situation
Analyse the skills developed during their professional experience
Give a presentation relating to their profession
To be admitted to this course, candidates must achieve a mark that is at least equal to the average mark (subject to available places in the school).
Admission without examination
Some candidates who are exempt from admission exams may be admitted to the course (no more than 5% of the school's capacity):
Fully trained midwives
Students who have completed the third year of their second cycle at medical school
Diploma-level nurses who also hold a recognised Master's degree
These candidates are selected by the admissions panel, based on their registration form and interview and in accordance with article 15.
After consulting the council for education, the school director may decide that these candidates are exempt from completing part of the course units. Any such exemptions shall only be made after the training followed by these candidates has been compared with the training units that constitute the Nurse anaesthetist diploma.
Additional training may be proposed by the school director after consulting the council for education, in accordance with candidates' previous training.
Preparation for the entrance examination IADE
IFITS provides a preparation for the entrance examination IADE. Read more
Training :
Nurse anaesthetist
This training will lead to a diploma as a Nurse anaesthetist at Master's level.
Length of the training
24 months (4 semesters)
Annual leave: 25 days
Structure
30 course units (UE) across 7 fields:
1 - Humanities, social sciences and law
2 - Physical, biological and medical sciences
3 - Foundation to anaesthesia, resuscitation and medical emergencies
4 - Working as an IADE (diploma-level nurse anaesthetist) in specific fields
5 - Studies and research into health
6 - Integration of knowledge as an IADE
7 - Professional report.
In partnership with Université Paris 13 : biological, health economy and professional report.
910 hours of theory-based teaching and tutorials
 
350 hours of guided independent work
 
2,030 hours, including 58 weeks on placement:
- Year 1: 14 weeks in semester 1, 14 weeks in semester 2
- Year 2: 14 weeks in semester 3, 16 weeks in semester 4
 
8 obligatory disciplines:
- Anaesthesia/resuscitation in visceral surgery
- Anaesthesia/resuscitation in head and neck surgery
- Anaesthesia/resuscitation en orthopaedic or trauma surgery
- Obstetric anaesthesia/resuscitation
- Paediatric anaesthesia/resuscitation
- Pre-hospital care (SMUR [Service mobile d'urgence et de réanimation – the mobile emergency and resuscitation service] or the emergency service)
- Pain management
- Placement within a research team
Assessment and ECTS
120 ECTS (European credits) must be obtained
60 ECTS for the course units at the institute:
- Humanities, social sciences and law (6 ECTS)
- Physical, biological and medical sciences (8 ECTS)
- Foundation to anaesthesia, resuscitation and medical emergencies (14 ECTS)
- Working as an IADE (diploma-level nurse anaesthetist) in specific fields (10 ECTS)
- Studies and research into health (6 ECTS)
- Integration of knowledge as an IADE (10 ECTS)
- Professional report (6 ECTS)
 
60 ECTS for clinical training during placements:
- S1: 14-week placement (14 ECTS)
- S2: 14-week placement (16 ECTS)
- S3: 14-week placement (14 ECTS)
- S4: 16-week placement (16 ECTS)
Assessment
Assessment for each course unit is stipulated in the teaching framework
Training costs :
Nurse anaesthetist
In 2018/2019
Year 1:
- With financial assistance : €9,036
- Without financial assistance : €6,480
 
Year 2:
- With financial assistance : €9,036
- Without financial assistance : €6,480
 
Tuition fees: €256  (for 2017/2018)