Profession :
Paramedic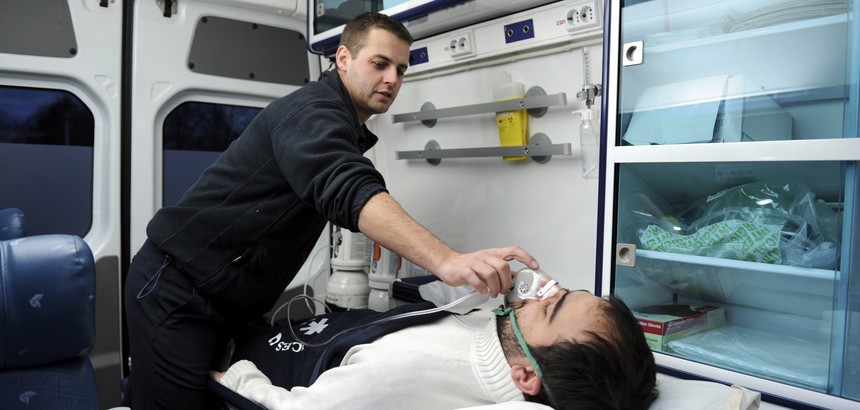 Paramedics provide, by medical prescription or in case of a medical emergency, the care and transportation of patients, injured parties or women going into labour in specially adapted medical vehicles, to reach a location that can provide further care or a diagnosis.
Paramedics work for a private company, a healthcare facility or for SMUR (Service mobile d'urgence et de réanimation – the mobile emergency and resuscitation service).
Entrance examination :
Paramedic
Registration
Download the registration form for the paramedics entrance examination – May 2018
Download the internship work placement agreement.
Entrance examination calendar for 2018/2019
Four entrance examinations are held every year (for 2 course start dates).
Conditions for registration
- No prior qualification is required to sit the entrance examination
- Hold a valid French driving licence B for at least 3 years, or 2 years of accompanied driving
- Provide a certificate of suitability to drive ambulances (attestation préfectorale d'aptitude à la conduite d'ambulance) following a medical examination conducted with the provisions defined in article R. 221-10 of the French Highway Code
- Provide a medical certificate issued by doctor who is licensed by the Regional Health Authority, attesting your profession as a paramedic
- Provide a medical certificate with up-to-date vaccinations (BCG, DTP, Hepatitis B)
Exams
1 entrance exam: written literacy exam in French (on a current topic) and numeracy test. Duration: 2 hours
1 entrance exam: oral exam based on a text about the general culture of the healthcare sector or society and a discussion with the panel about the candidate's motivation and existing knowledge of the training.
Duration: 20 minutes
1 work placement of 140 hours, conducted before the admission exam, in a
private medical transportation company, or hospital ambulance service.
Training :
Paramedic
Length of the training
21 weeks of training, alternating between classes and placements.
Structure
8 training modules:
- Module 1: adapting care to the state of the patient – approval by AFGSU (Attestation de Formations aux Gestes et Soins d'Urgences – Certificate of Training in Emergency First-Aid), level 2 – 105 hours
- Module 2: assessing the clinical condition of a patient – 70 hours
- Module 3: maintaining good hygiene practice and participating in the prevention of infection transmission– 35 hours
- Module 4: ergonomics (the use of preventive handling techniques and safety regulations when positioning and moving patients) – 70 hours
- Module 5: establishing a relationship with and adapting communication to the patient and the people with him/her – 70 hours
- Module 6: ensuring the safety of medical transportation – 35 hours
- Module 7: researching, treating and passing on information to ensure that the correct healthcare is continued – 35 hours
- Module 8: organising professional activities relating to abiding by regulations and professional values – 35 hours
 
4 placements:
- Support service for people with limited ability (EHPAD [établissements d'hébergement pour personnes âgées dépendantes – residential homes for dependent elderly people], rehabilitation, SSR [Soins de Suite et de Réadaptation – after-care and rehabilitation]) – 1 week
- SMUR (Service mobile d'urgence et de réanimation – the mobile emergency and resuscitation service) or the emergency service – 1 week
- Emergency service – 1 week
- Medical transport company – 2 weeks
Training costs :
Paramedic
In 2018/2019
Costs for independent applicants : €3,305
Costs for societies : €3,713 (including finance from ANFH [Association Nationale pour la Formation permanente du personnel Hospitalier – National Association for the ongoing training of hospital staff] and FONGECIF [Fonds de gestion du congé individuel de formation – Fund for the management of independent leave for training])
Registration fee: €101 including VAT
Training must be paid for in full one month before the end of the course.
Financial support
Various bodies can cover course fees: for further information, ask Pôle Emploi, PAIO, Mission Locale or your employer
If you'd like to ask a body to cover your course fees, write to the branch secretary for a quotation for the course
Financial support of the regional council (on condition) : write to the branch secretary